Women's pirate costumes are, year after year, great choices for those wanting to make an entrance at their annual Halloween costume parties.  Fortunately, over the past few years, however, the female pirate costumes have evolved from the antiquated bar wench type costumes, to costumes that will have any swashbuckler just begging to give her the location of his buried treasure.  The following are but a few of those sexy pirate costumes.
Sexy Pirate Wench Adult Costume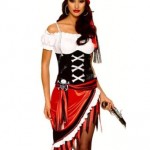 Dressed in this Sexy Pirate Wench Adult Costume, you will no doubt have many adventurers willing to assist you in your search for buried treasure.  This sexy ladies pirate costumes is as bold as it is daring.
Featuring a multi-layered ruffled dress, this stretch knit red costume rests provocatively off of the shoulders and includes long sleeves with a cut out at the elbows.  The sleeves include vinyl lacing that matches the black waist corset.  The corset is constructed with vinyl boning and is removable in the event you want to wear this sexy pirate dress without it.
Included with this amazing woman's pirate costume is a black head scarf with printed on skull and cross-bone designs, as well as a plastic pirate sword and a drawstring bag with the words "Pirate Booty" written on it.  Available in adult sizes small, medium, large, and extra-large, this costume is made in sizes to fit most women.  The fishnet stockings and the thigh-high boots are sold separately.
South Seas Siren Adult Costume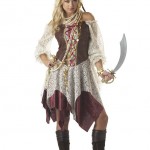 There is no other way to describe this South Seas Siren Adult Costume than as a true treasure.  This woman pirate costume is a burgundy colored skirt with edges that resemble a handkerchief.  Over laying the waist of the skirt is cream colored lace, which matches the sheer lace found on the long sleeves of pirate outfit as well as the middle of the bust.
The pirate outfit is finished with a matching burgundy head tie and is available in adult sizes small, medium, large and extra-large.  This siren costume does not include any jewelry, the pirate sword, or the sexy, long high-heel boots.
Lace Pirate Adult Costume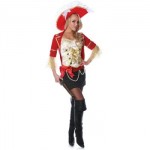 Reminiscent of a Mardi Gras party, or even life on the high seas, this realistic pirate costume is a great choice for this year's costume party.  However, any swashbuckler would be remiss to think you are a helpless damsel in distress when dressed in this Lace Pirate Adult Costume.
This sexy pirate costume has a knitted velvet red pirate jacket which fits neatly over a white, corset-styled top.  The top is constructed for extra support and includes underwire bra cups and boning.  It is also constructed with a zippered spandex back and has gold lace overlay to really crank up the quality a notch.
Finally, the sexy pirate outfit includes a black mini skirt (with a zipper closure), as well as a red pirate hat with coordinating lace trim.  It comes in standard women's sizes including small, medium, large and extra-large.  However, the pirate ensemble does not include the gun, fishnet stockings, or the thigh-high boots.
Halloween Props and Decorations
Gothic & Vampire Costumes
Accessories and Makeup
Halloween Costumes
Pet Costumes
Halloween Party Supplies
Hats, Wigs and Masks
Get a $250 Sears(R) or Kmart(R) gift card for Halloween costumes, candy, and decorations.